THE COBBLER
Text Analysis and Full Groundplan
-LK

Scene #
Locale
Tag
Quality
Notes/Technicalities
Scene 1
Orwell's Hostelry and Cobbling Emporium
Setting up shop
Film Noir
Sign Painting

Rain running on the window

Till on US end of bar

Apple for the Cobbler's pocket

Chair and wash basin behind the Cobbler - he brings them DS or to the upper platform

Need cloth sacks

Need 66 boots

Scene 2
Morgue
Recycling philosophy
Disturbing
signs carried on in the blackout

chandeliers illumniated in the morgue

trolley's roll from SR to SL - do these entrances need to be ramped?

signs struck after scene

Scene 3
Orwell's Hostelry and Cobbling Emporium
Why is the Cobbler here?

Lily, be my wife.

Psychological
Scene 4
Beach
Love of the Poet
Invasive/Surreal
Digging

Use of trap

need a spade

sack full of cats wriggling

Malachy can use all the benches and slabs as if walking on rocks

small bulbs hung above head height and out over the USR audience, a skyfull of stars help us understand we are outside?

Interval
Scene 5
Morgue
Out of Shoes
Slimey
How do we show passage of time?

Different sale signs in the Morgue?


Scene 6
Orwell's Hostelry and Cobbling Emporium
Lily's Optimism
Orwell Wins
Hope
Despair
Scene 7
Morgue
Planting an idea in the Poet's head
Suspense
Mogue still set up from Scene 6

Scene 8
Orwell's Hostelry and Cobbling Emporium
Debt has been Paid
Orwell's Humiliation
Harsh
Eating an apple
Scene 9
Orwell's Hostelry and Cobbling Emporium
Cobbler reveals himself
Introspective
Candlelight
Scene 10
Mainland Pub
The Cobbler Revealed
Detective Story
How do we know we are not in Inishbollock?

Could be staged on DS half of the hostelry
or
Could be stage by the characters carrying on stools to center stage, among the stones

The latter proposes not using a bar and therefore the barman would be played as a regular. One would know this is a pub by the men having mugs.

Scene 11
Morgue
Birth and Death
Creepy
Showing the bloody birth

Could be staged by rolling Lily to center on a coroner's trolley. The trolley would be rigged with bloody linens and the new birth. The trolley could be put on a diagonal so the birth would occur towards USL.

Scene 12
Orwell's Hostelry and Cobbling Emporium
Loss of father
Surreal
Bloody Baby, Bloody Boots
Epilogue
Gravesite
Cycle Continues
Sad Fairy Tale
Buried Boots
Coffin dropped in
POV:
When a Cobbler arrives on this inhospitable island, a poet's anxiety grows. Questions of "why am I fixated on this strange man" and "why did I not see my father buried" torture the poet's mind. Too late are the poet's suspicions validated, as the son had already ended the life of the father, the Cobbler lying dead at the hands of the poet. As in a greek tragedy, a wrecked situation, despite moments of hope, ends tragically. The cycle continues as the poet sets off into the world leaving Lily's child behind.
Overall Quality:
wet and dank, dripping with anguish
black, white, red
despair, hope, defeat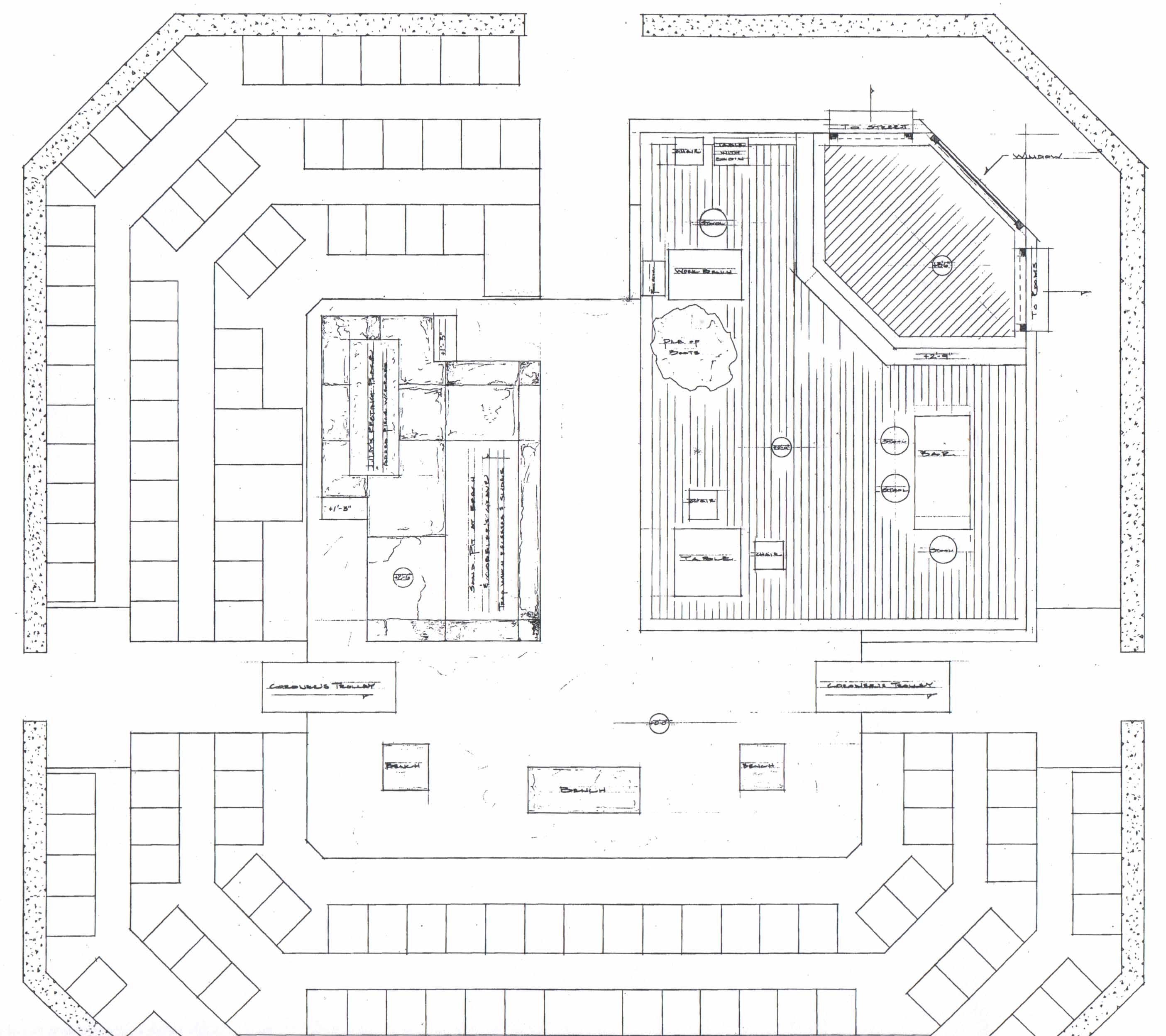 Generl notes about the above groundplan:
Orwell's Hostelry is USL.
There are no walls to allow for clear sightlines from the seating which is closest to the Hostelry area.
Doors are indicated by frames and the window which will be painted is hung, attached at the grid and the deck.
DSC is the morgue.
Actors exiting Orwell's lobby move behind the deck and out the theatre doors.
USR is the beach/grave area.
Morgue and beach/grave areas can blur to allow for additional playing space.
Home / copyright Lynne M. Koscielniak / lk2@buffalo.edu / 847-858-8754